About Coast 2 Coast Vanlines
Coast 2 Coast Employees Take Pride In What They Do
Coast 2 Coast Vanlines was established on the pillars of integrity and respect. The founders are proud of their work, proud of their goals, glad to know they're contributing to changing the conduct of all movers.
At Coast 2 Coast, we understand that moving is more than just a change in address. We treat customer belongings as if they are our own. Your memories are safe with us.
Coast 2 Coast Vanlines is more than a company; it's an idea based on one simple mission: customer satisfaction.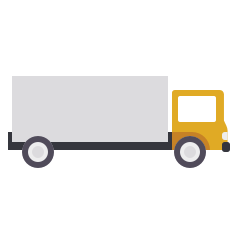 We built our company on the following customer promises:
1: We will provide superior Customer Service throughout the moving experience.
2: We will be transparent about price from beginning to end.
As properly licensed interstate broker, Coast 2 Coast Van Lines LLC, is not a motor carrier and will not transport or handle in any way an individual shipper's household goods, but will coordinate and arrange for the transportation of household goods by an FMCSA authorized motor carrier, whose charges will be determined by its own published tariff. All estimated charges and final actual charges will be based upon the motor carrier's tariff which is available for inspection from the carrier upon reasonable request. In acting as an interstate broker, Coast 2 Coast Van Lines LLC is not responsible for any acts or omissions of the moving company or its employees or agents. Coast 2 Coast Van Lines LLC is the customer's representative. There is no agency or subcontractor relationship between Coast 2 Coast Van Lines LLC and the moving company.  Coast 2 Coast Van Lines LLC will research and recommend a moving company; however, it is customer's sole decision to enter into a contract for moving services ("Bill of Lading") with moving company or not. This document is an estimate only and not a contract for moving services. Coast 2 Coast Van Lines LLC is not a party to the contract for moving services ("bill of lading") between the moving company and the customer. Customer agrees to exclusively pursue the moving company directly for all claims for overcharges, delayed delivery, breach of contract, property damage, including without limitation, any claims of damage to property, lost or stolen goods, delayed pickup or delivery, actions of estimators, drivers, packers, or movers, or other types of claims. 
We Serve the Western States of the US
Our main service hubs are listed below, but we help all those in between.
San Francisco, California
Open Hours
8am - 9pm Everyday
Service Areas
Denver, CO
Los Angeles, CA
San Francisco, CA
Seattle, WA